Posted on
By Ashley Wheeler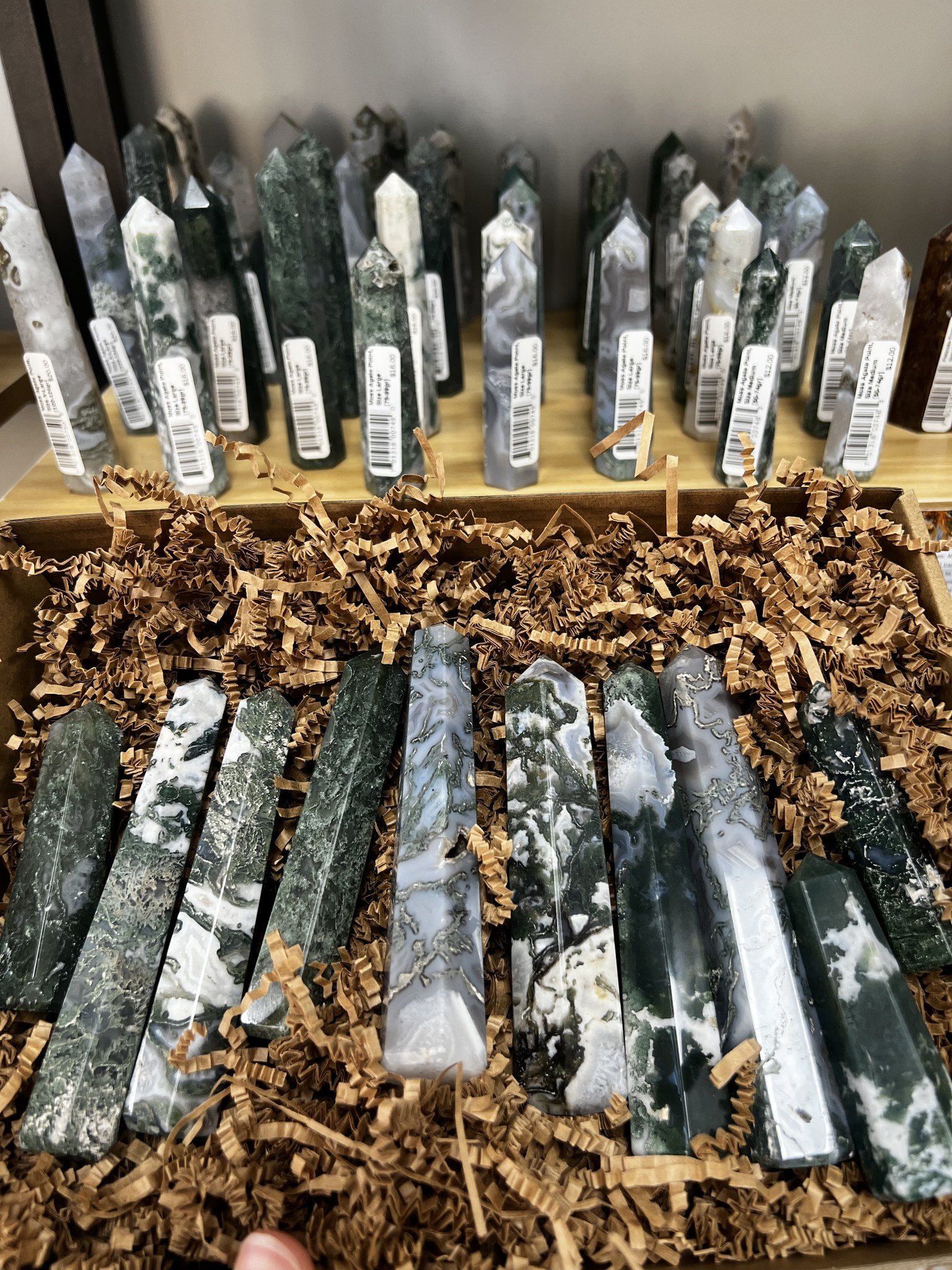 Have a crystal business? Want more information on ways you can grow your business? Here is some information on why purchasing in bulk will accelerate your business, advice/tips on how to price your items after purchasing in bulk and where you can purchase in bulk.
Purchasing your products in bulk is one way you can accelerate your business. Typically, purchasing in bulk costs less than purchasing your items individually. But purchasing in bulk isn't always possible. This article will provide full details about bulk purchasing with our company, along with some tips and tricks about making purchases for your business.
What products can be purchased in bulk? we get this question ALOT! Typically, anything that can be mass produced and sold by weight. This would include: towers/points, palms, hearts, spheres, rough/raw stone and tumbled stones. Carvings, beads, and one-off items (i.e., specimen) are not eligible for bulk pricing, because they are not mass produced.
Why is purchasing in bulk better for my business? long-story short, purchasing in bulk will cost you LESS overall, allowing your business to earn more profits. The larger the quantity (weight) of the bulk product you purchase, the less you are spending overall.
For example: you pay LESS per piece when you purchase a 500gr bag of tumbled stones, versus a 100gr bag of tumbled stones. You can still charge the same price for YOUR products, which allows your business to make more profits and have more growth.
Another example: we charge LESS on our 1KG bulk lots of points/palms/hearts than we do for our individually listed points/palms/hearts. If your bulk box contains 10-14 points (on average), you will pay a FRACTION of the total amount to purchase these points in a bulk box versus if you purchased each one of those points individually. You can still charge the same price for YOUR products, which allows your business to make more profits and have more growth.
How do I price my products when I purchase in bulk? however your heart desires! Do whatever makes more sense for your business; by weight, size, height, quality. Once you have sold products that you have purchased individually, you will understand what each item should be worth, and then you can copy that same strategy to your bulk buys! It seems intimidating at first, but it's really not that bad! Give it a try, you might surprise yourself.
What if I want to have a variety of products, but can't afford to purchase everything in bulk? Start small, and allow your business to grow organically. What is your TOP 1 or 2 selling items? Start there, and purchase those ones in bulk, while still purchasing your other stock at a lower quantity commitment. When you sell through your bulk items, use the larger profit you made from those items to purchase another product type in bulk. Slowly continue to re-invest your profits to grow. The more you purchase in bulk, the higher your profits, the better your business will grow. We make it easy for you by offering OUR TOP selling retail products in our bulk lots.
Do I still get my wholesale discount? YES! All of our products are offered at retail pricing to start. Simply apply your approved discount level to the price and you're good to go! 
Can I individually select my own pieces, and still get bulk pricing? Unfortunately no. We are offering bulk lots at rock bottom pricing. Our bulk lots are pre-packaged for very easy grab-and-go shopping in store, and are ready to ship for online orders. The products are packaged safely and you don't have to worry, all our quality is high and each piece has been pre-inspected.